For more good humour, click on the banner above
Welcome to The Loony Bin
The Loony Bin Archives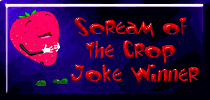 ---
Important Note To Netmind Users
If you have been using Mindit to inform you of changes to our site please read this .
---
Subscribe
So you have read some of the jokes archived here and would like all the latest jokes to be e-mailed to you directly. No problem, just enter your email address below, then click the 'Join List' button:

Please note that submissions to the list etc. should be sent to the loonies@bloodaxe.com address
Loony messages will be sent out at the maximum rate of one per day now (rules of the list server). Lets hope we don't blow this list server up :-)
---

Return To Pete's Home-page .
Comments and feedback can be sent to:
The Loony Bin